Pre-tan Preparation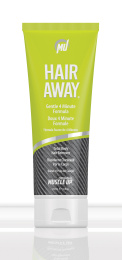 Features and benefits
Remove unwanted body hair quickly and pleasantly while providing gentle conditioning care for smooth, fresh feeling skin. Hair Away® is precisely balanced for all skin types, removing hair for up to three weeks in as little as four minutes
GENTLE 4 MINUTE FORMULA
TOTAL BODY HAIR REMOVER
GENTLE, NON-BURNING FORMULA
Recommendation
Apply a small amount to the inner fold of the elbow. Leave on for 2 minutes. Wipe off with damp cotton cloth or rinse with warm water. Wait 24 hours. If redness or irritation appears, discontinue use. If skin looks normal, proceed.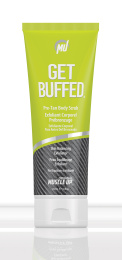 Features and benefits
A perfect tan begins with Get Buffed® Pre-Tan Body Scrub. Formulated with natural exfoliators, plant extracts and vitamins that are exclusively designed to maximize and enhance your sunless tanning results while helping to balance out your skin's pH level.
NATURAL EXFOLIATOR
ENHANCES SUNLESS TANNING RESULTS
BALANCES SKIN'S PH LEVEL
FORMULATED WITH PLANT EXTRACTS AND VITAMINS
Directions
Prior to the initial application of any of our sunless tanning formulas, apply a generous amount of scrub onto palm of hand or cotton wash cloth while showering. Massage scrub over your entire body with a light amount of pressure. Rinse thoroughly and repeat if necessary.